INDUSTRIAL PROJECT WITH ENGINEERS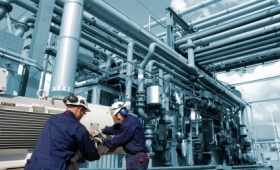 In the industrial sector the role of engineers is more frequent. Experts in Buildings in Montreal helps general contractors, the customers of industries and manufacturing plants in their engineering requirements for a commercial industrial project with the help of structural, mechanical and ventilation, and electrical engineers. All of them related to the field of automation and control equipment and industrial building.
The types of projects:
Pulp and paper company;
Aluminum plant;
Cement plant;
Food processing plant;
Agricultural sector;
Mining and oil industry;
Modular workers' camp;
Manufacturing workshop or warehouse;
Hospital and health care;
Wastewater treatment plant;
Heavy industrial equipment.
Our group of professionals engineers and entrepreneurs in Montreal contains engineers and general contractors who come together to complete your industrial project.
The industrial project engineering team does:
Inspection of the foundations of the industrial project and report on related solution corrections;
Structural plan of an expansion of factory;
Design and approval of plans for a new industrial project including structural, mechanical & ventilation and electrical plans in order to obtain a building permit;
Feasibility study of engineering project of an industrial park;
Performance analysis and factory energy economy and corrective measures;
Worksite management;
Project management.
Whether it is a small or a large industrial project our group of engineers in Montreal helps you to find an engineer for your industrial project in the Montreal area or surroundings. For your structural works, building energy saving, conception, design, approval of plans for obtaining permits or upgrading to standards we have for you the engineers for your industrial project.
Do not hesitate to contact us!